Article By: Superyacht Australia
The inaugural Australia Thailand Rendezvous sponsored by Benetti Yachts took place last Friday 7 February at Phuket Yacht Haven Marina in Thailand. The Rendezvous attracted 14 vessels with Captains and crews all keen to partake and receive updates on what is happening in the Australian superyacht industry and to hear about the benefits and opportunities of including Australia as a destination.
The Australia Thailand Rendezvous was modelled on the successful Pacific Rendezvouses that Superyacht Australia have been conducting in previous years in both Fiji and Tahiti. The day's activities included a Morning Tea Expo, VIP Captain's Lunch, Best Dressed Competition, BBQ Cooking Competition and a Networking Party.
The Captains and crews were engaged with informative exchanges and enjoyable networking experiences with many confirming their plans to visit Australia.
Peter Mahony, General Manager of Benetti Yachts Asia – the Major Sponsor of the Rendezvous shared the following;
"Congratulations to Superyacht Australia for an enjoyable and well run 1st edition event. Yacht Haven Marina was the perfect Phuket setting with an impressive backdrop of Superyachts in the marina including Benetti's – Diamonds Are Forever and Formosa adding to the fleet.
The event flowed well combining a relaxed, casual atmosphere with a respectful commercial undercurrent which ensured value for all attending. We met many new faces and made some very good new connections. A must attend event for 2021."
Superyacht Australia members – Echo Yachts Superyacht Group Great Barrier Reef, Gold Coast City Marina & Shipyard, Coral Sea Marina and Resort attended the full day's activities.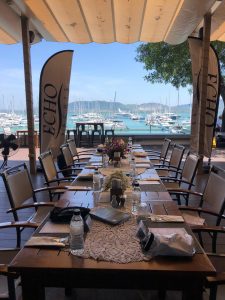 The Captain's Lunch saw 11 Captains in attendance. Chris Blackwell, Sales & Marketing Manager of Echo Yachts, the sponsor of the VIP Captain's Lunch reported;
"Echo Yachts near Perth in Western Australia is the closest purpose-built superyacht manufacturing and refit shipyard supporting large superyachts that visit or operate in the region.
The inaugural Thailand – Australia Rendezvous at Yacht Haven Marina in Phuket provided Echo Yachts the perfect location to become involved and sponsor the Captain's Lunch event to further promote our high-quality refit and maintenance capabilities and facilities
This year's inaugural event was an immediate success providing a great location and numerous networking opportunities for Australian superyacht businesses, many large superyacht captains, crew, superyacht agents and brokers from the region in a professional relaxed setting. We would highly recommend the event to others."
The BBQ Cooking Competition saw five crews participating. Australian ingredients and steaks were delivered to the vessels. M/Y DIAMONDS ARE FOREVER were the winners with the most innovative dish.
The Best Dressed and Presentation courtesy of Quality Marine Clothing went to M/Y BG for their very creative Crocodile Dundee dress up and Australian decorated presentation table, including an Australian shaped cake for dessert!
The day's events were added to with a traditional Thai dance that were performed as a welcome to all and prior to introducing Peter Mahony of Benetti Yachts' who gave a presentation on their involvement in the event as the Major Sponsor.
David Good, Chief Executive Officer of Superyacht Australia concluded;
"In addition to promoting Australia as a destination for all it has to offer, another key focus of Superyacht Australia is to encourage vessels to come to Australia for refit and maintenance. The longer a vessel stays in the Pacific, the more the region collectively benefits.
Superyacht Australia would not have been able to put this event on without the local Thai support of Superyacht Services Guide, Drake Marine, PYH Marina, local agents and industry representatives, along with event sponsors Benetti Yachts, Echo Yachts and Quality Marine Clothing," continued David Good in acknowledgment and appreciation of the Rendezvous' sponsors and supporters.
For more news from Superyacht Australia – click here.